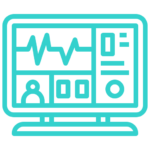 Digital Health Monitoring
Client :  
E-health company
Challenge :
Monitoring and analyzing data on a continuous data flow. Need to identify and investigate data flow interruption and support decisional with strong visualizations and reports.
Our Intervention :
Data integration and visualization, process automation and harmonization.
Added Value :
Availability of data on a real-time basis in order to support decision making in studies.